Have you ever wondered why your brand-new TV suddenly stopped working? Maybe you need to blame a power surge?
A power surge can reach your home, fry the circuit breaker, and spread to several outlets. If an appliance is plugged directly into the electrical grid, it will not survive the power outage. Surges can also occur inside your home, causing everything that is plugged in to burn out, including your monitor, television, and refrigerator. Understanding what a surge is can minimize the harm to your valuable electronics and appliances. 
What is a power surge?

 
A power surge happens when the voltage of electricity flowing through the circuits increases suddenly and significantly. Most electronics and appliances in New Zealand run on 220 volts. During a surge, the voltage rate increases dramatically for a brief period, causing too much electricity to flow through your wires. 
What causes a power surge?

 
Surges may occur for different reasons, including environmental conditions, transformer issues, and the abrupt restoration of power following an outage. Lightning is a common cause, so be extra cautious during a thunderstorm.
Surges are unpredictable; you never know when the power grid will be disrupted. A power surge is shown by lights flickering on and off. Look for electronics that have been reset, like a microwave clock that flashes "12:00." If you live in an area where blackouts occur often, you might be particularly vulnerable. 
If you have a lot of appliances working at the same time, you're more likely to have a surge. When high-powered electrical machines like air conditioners and refrigerators are running at full capacity, their motors and compressors consume a lot of electricity. This high demand will cause your electrical system's voltage to fluctuate.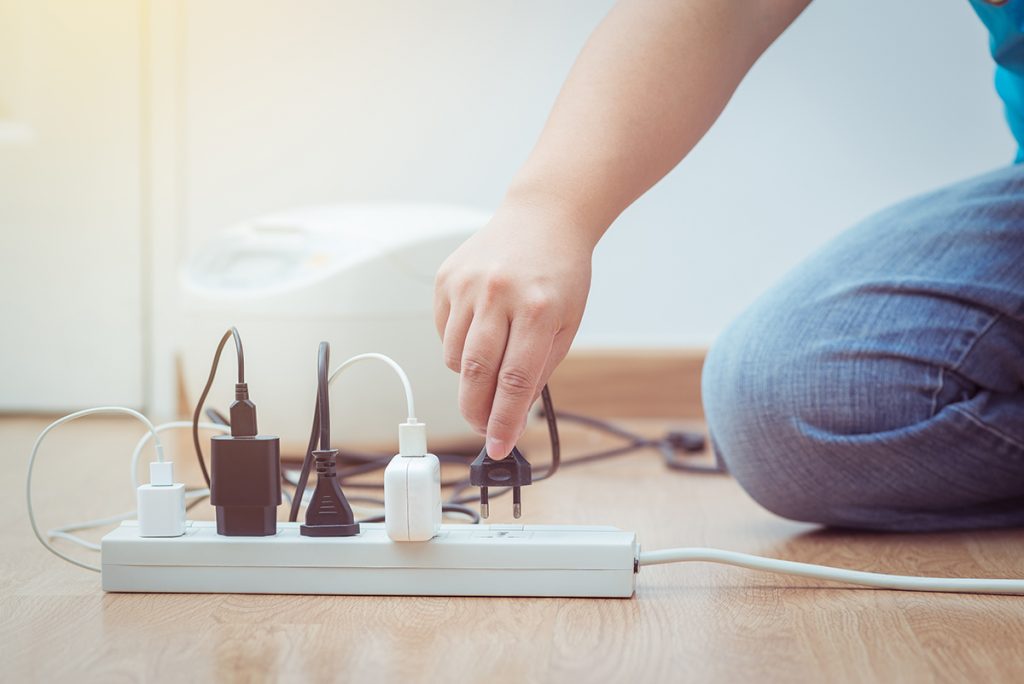 What appliances are at risk?

 
Voltage changes can cause serious damage to something that is driven by a motor. Furthermore, modern electronics that rely on microprocessors, such as computers, microwaves, televisions, and DVD players, need a constant supply of electric current at the appropriate voltage to function properly. Even the most expensive appliances, such as your air conditioner, refrigerator, washer, and dryer, are vulnerable. 
How can I protect myself from power surges?

 
The simplest solution is to purchase whole-house surge protectors. These devices, which look like power strips, automatically redirect excess energy to each outlet's grounding cable, protecting your appliances. Surge protectors will protect home computers, media units, land-line telephones, cable lines, and motorized appliances, though experts also suggest unplugging major devices during a lightning storm. 
It is best to unplug your appliances during a power outage, because a surge may occur when the electricity comes back.  
 Consider installing a surge protector in the electrical panel, where the circuit breakers or fuses are mounted. During a power surge, the suppressor can channel the extra energy and prevent it from entering the main system. If you live in a storm-prone area, a lightning rod may be a good idea to reduce the damage caused by a direct hit. Finally, check that your insurance covers you if a surge disables your devices despite your best efforts to protect them. 
Power Surge Protector NZ
French Electrical team can help to protect your electronics and appliances from power surges. Give us a call on 09 274 8082! We will walk you through the choices and assist in making the best decision. 
USE FRENCH ELECTRICAL FOR TOP QUALITY WORK 
Do you need an inspection, maintenance, or repair work carried out at your property? Get in touch with us today for a no-fuss, no-strings-attached discussion on how we can best help you.
Email us at info@www.frenchelectrical.co.nz or fill out our online inquiry form, and a member of the team will be in touch with you shortly.