The Master Builders House of the Year competition celebrates high-quality craftmanship, and sustainable and eco-friendly building practices. Featuring the best in residential architecture and construction, French Electrical is proud to be involved in three of the winning houses.
Beauty and the Barn
Awards Won: Top 100 | Regional Gold
Category: CARTERS New Home $1 million – $1.5 million
Builder: Taylor Construction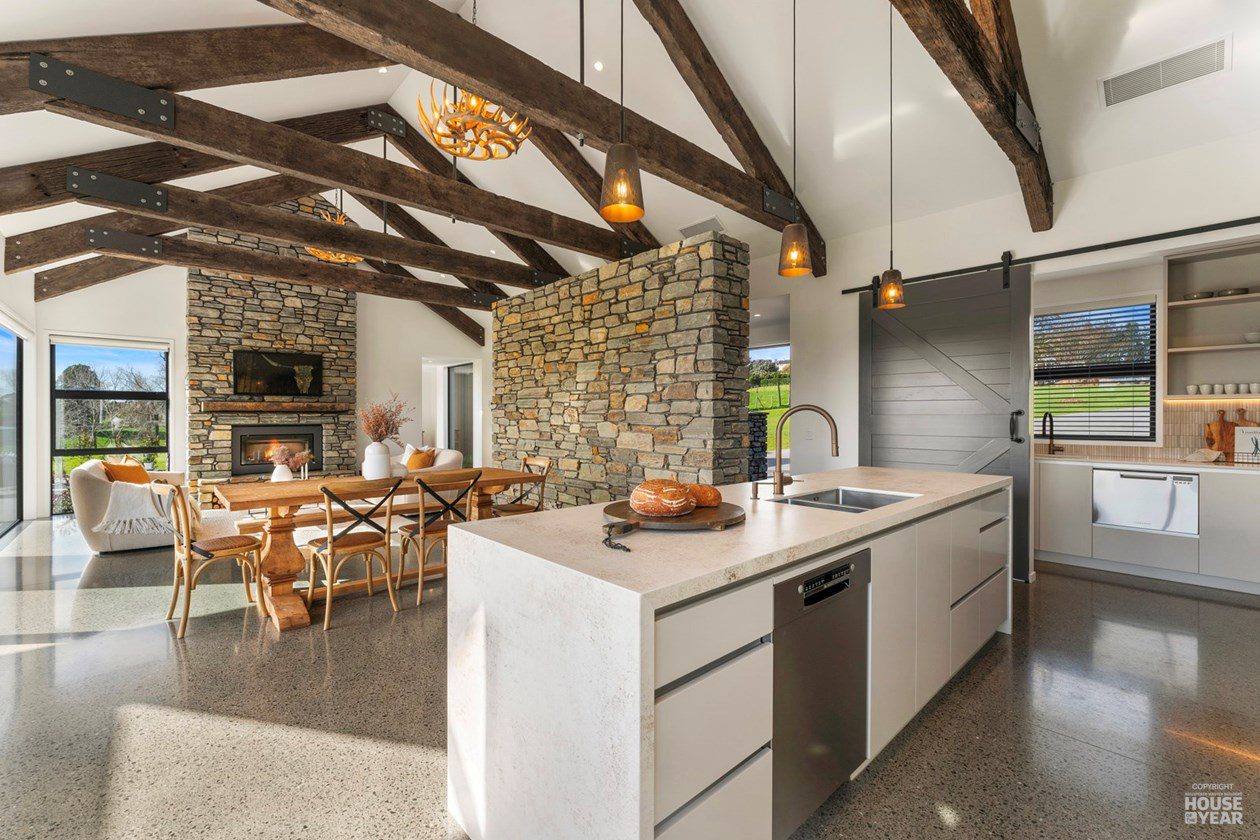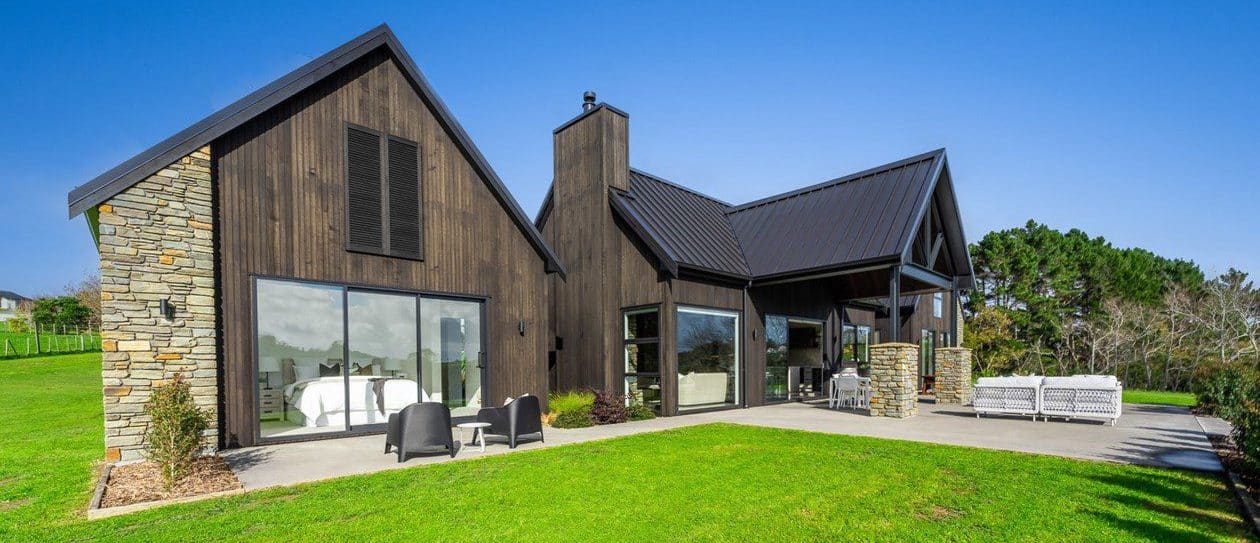 This 310sqm country house blends an old-style homestead with modern comforts. It is a mix of schist and black cedar divided into three sections connected by glass walkways. The entrance has a striking 2.7m stone wall, concrete floors, and wooden ceiling beams in the main room. The living area features a wood-burning fireplace with a stone mantel.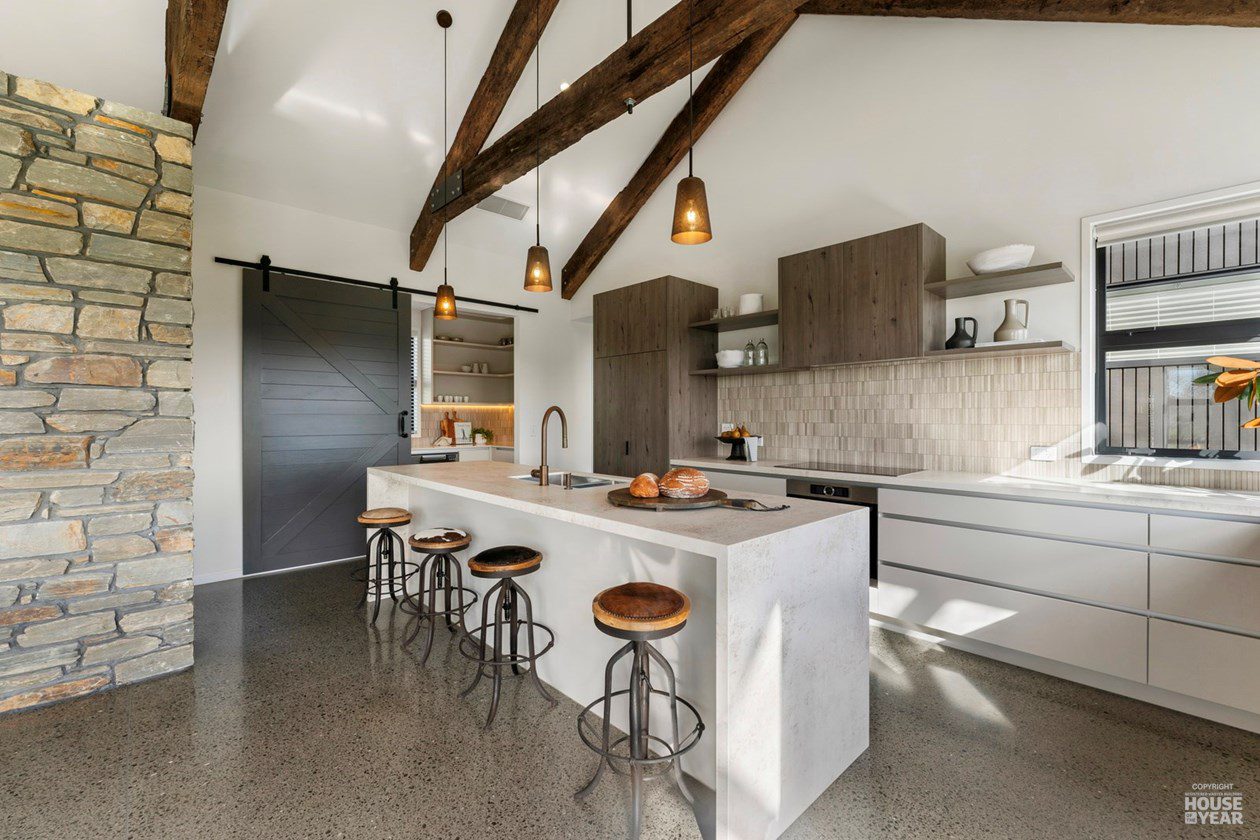 The kitchen has a barn door that opens to a butler's pantry and has access to the outdoor entertainment area with beautiful views. The main bedroom has a high gabled ceiling, outdoor access, a spacious ensuite, and a walk-in dressing room.
Behind the kitchen, a second glass walkway leads to a two-story wing. On the ground floor, you'll find two bedrooms, a bathroom, a separate toilet, and a double garage with a laundry area. Carpeted stairs take you upstairs to a charming fourth bedroom and a lounge/media room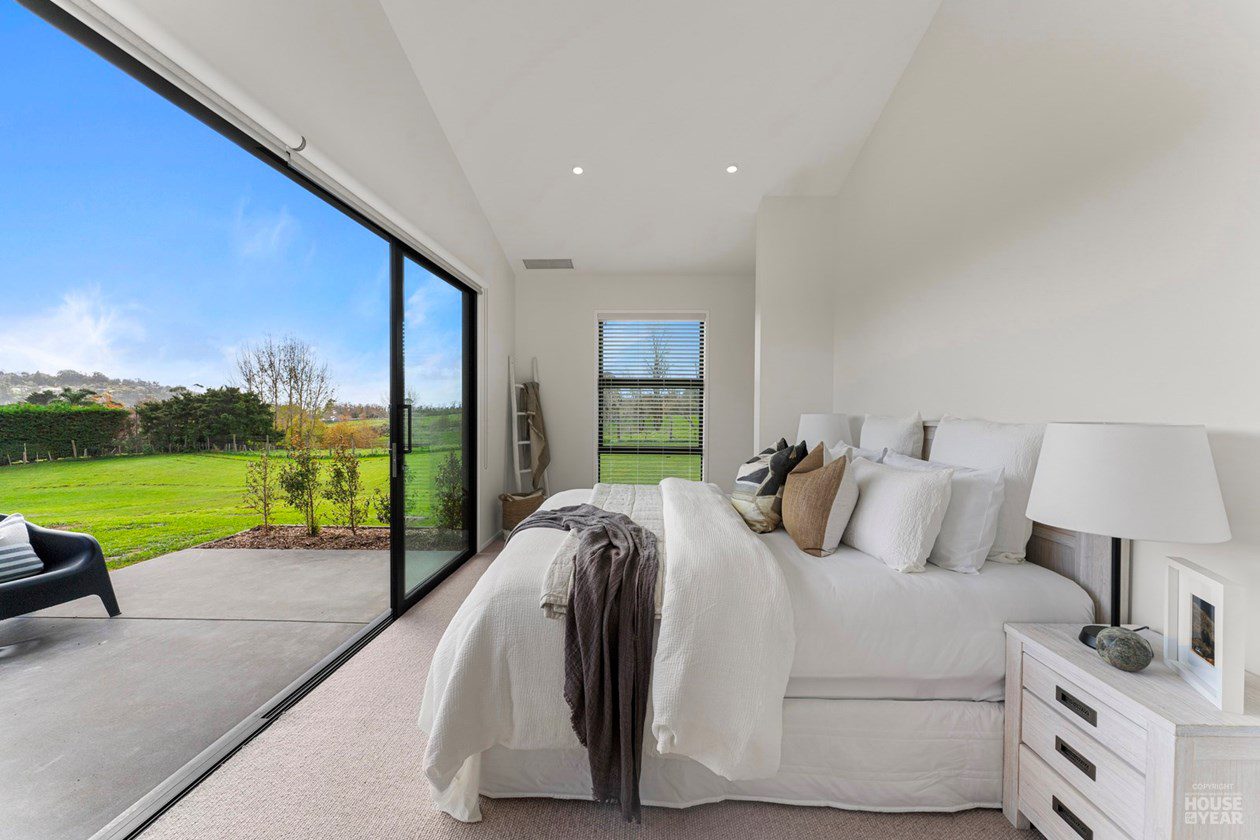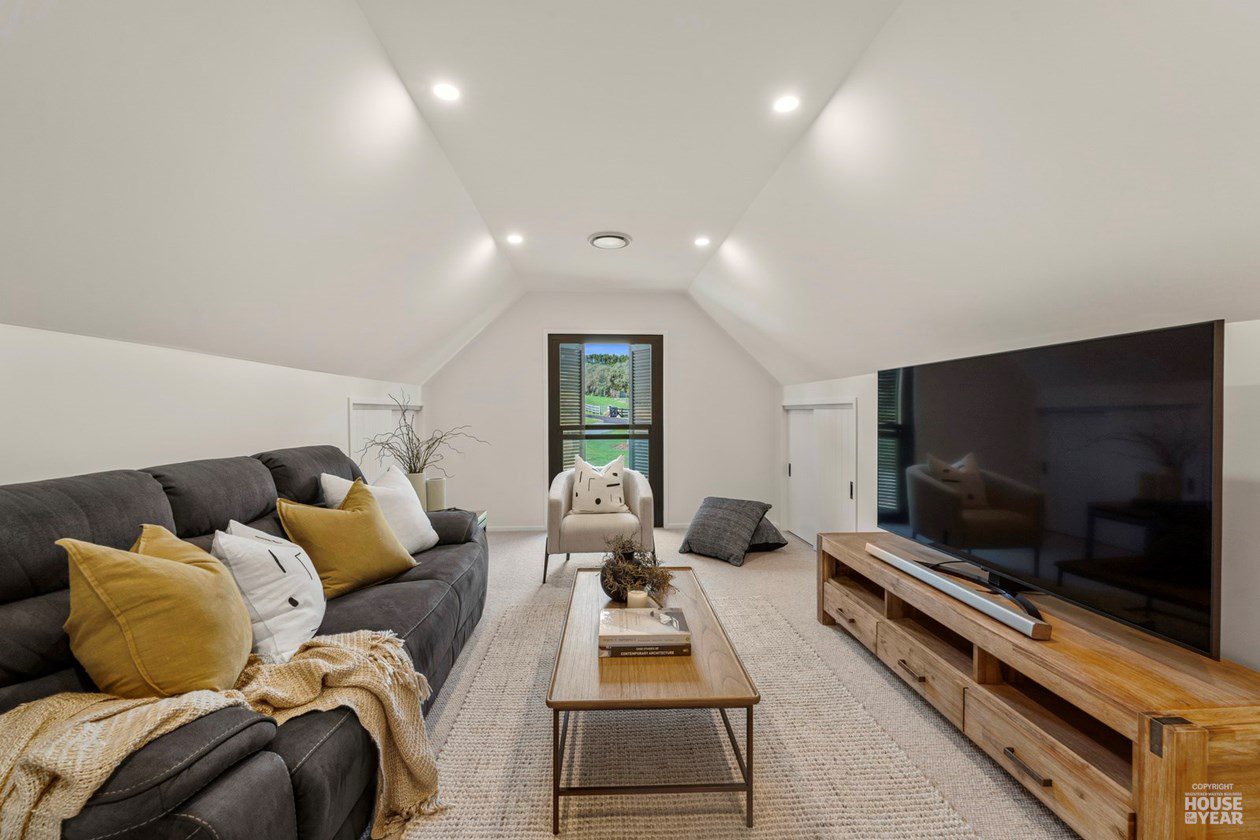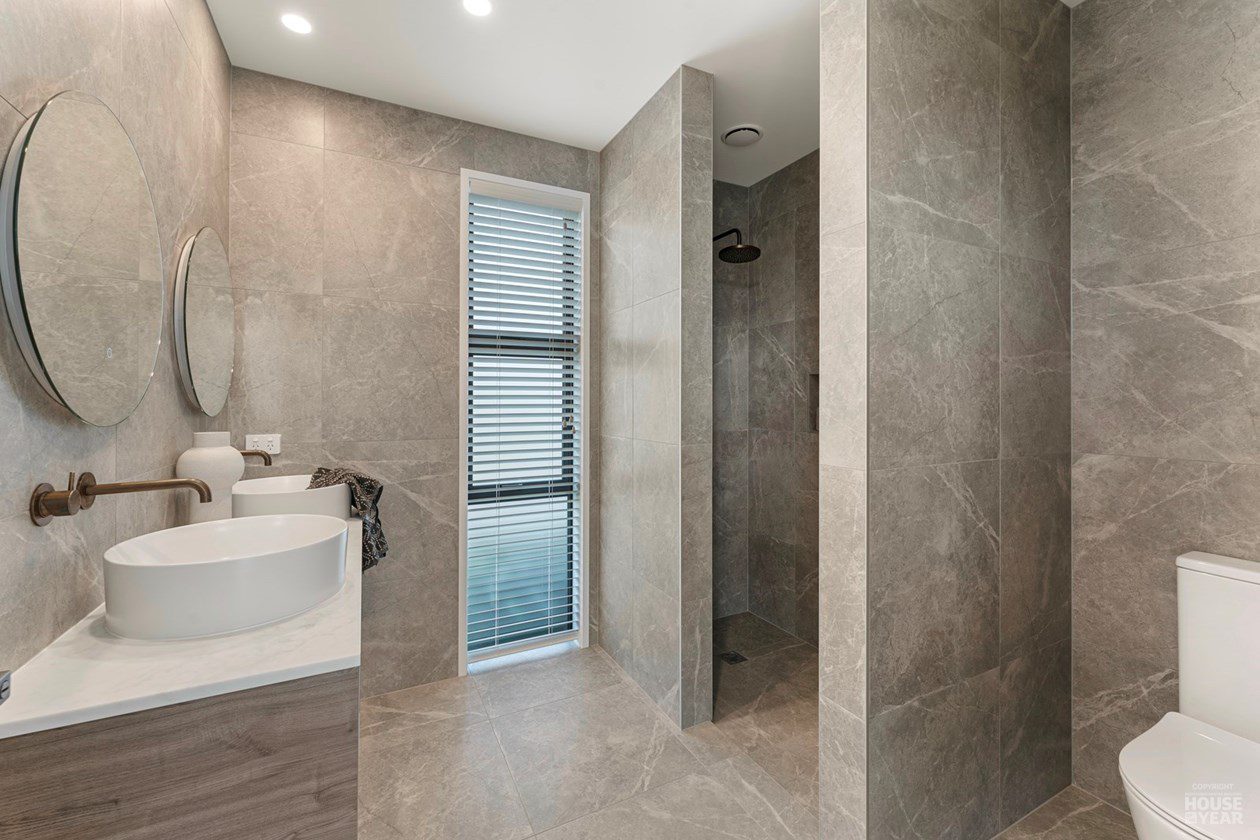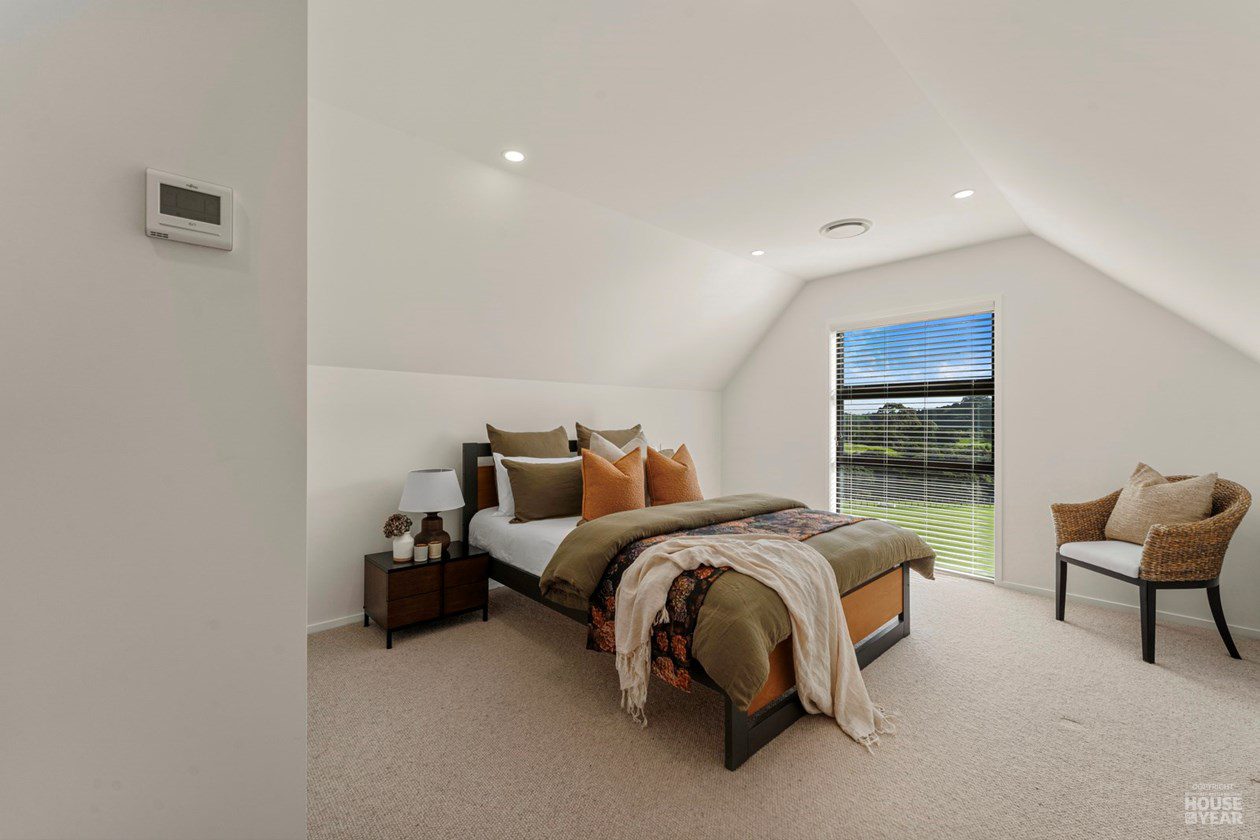 French Electrical designed the lighting plans for this property in Whitford, both indoor and garden lighting. We consulted with the building company and customers about what they wanted and what was achievable. We installed LED stairwell lighting, TVs, phones, alarms, and power. If you like the lighting used in this property, they are courtesy of NSG Lighting.
Damien Taylor from Taylor Construction Group originally met Chris French from French Electrical through another subcontractor. Over the years, the relationship has grown stronger, and the thing Damien likes about working with French is, "You can always pick up the phone and have a chat with him. We've got lots of trust in him because no matter what happens, or if there's an issue, he'll sort it out."
Congratulations, Damien and the Taylor Construction team!
You can view more photos of this gorgeous home on the Registered Master Builders House of the Year website here.
Family Matters
Awards Won: Top 100 | Regional Category Winner | Gold Award
Category: New Home up to $500,000
Builder: Frame Homes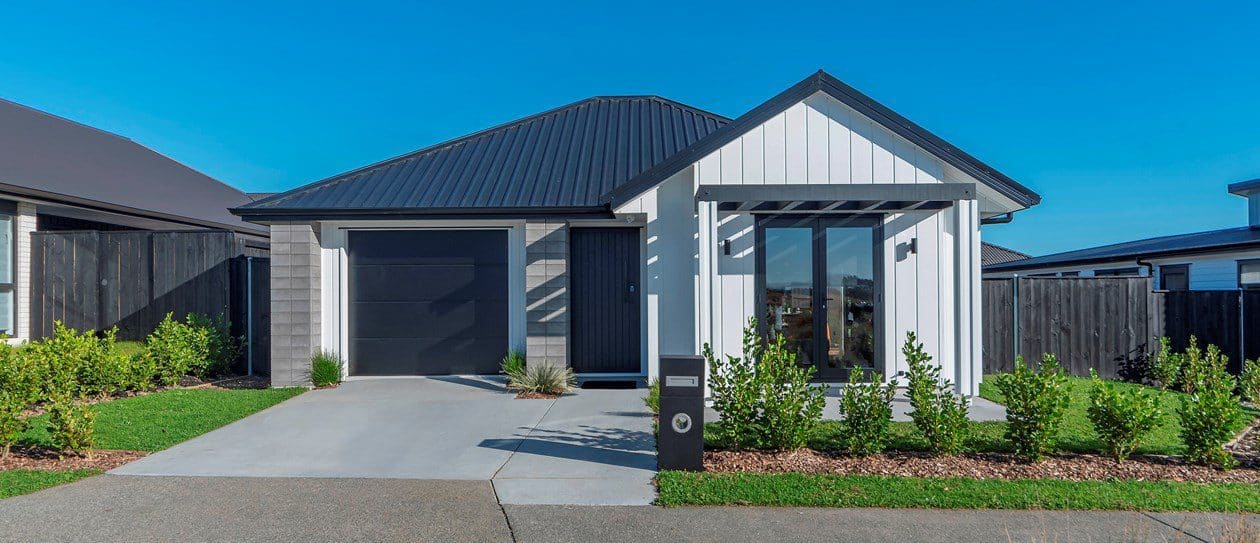 This new three-bedroom home in South Auckland is designed to enjoy the living spaces, both indoors and outdoors. The exterior is simple yet stylish, with charcoal steel roofing, dark windows, and white Linea Oblique cladding.
The entrance leads straight into the main kitchen and living area, which is super family-friendly, with plenty of storage in the main room and the open scullery. The study is next to the kitchen, and big sliding doors head to the paved outdoor barbecue area in the backyard. The main bedroom has a walk-in robe and a fully tiled ensuite.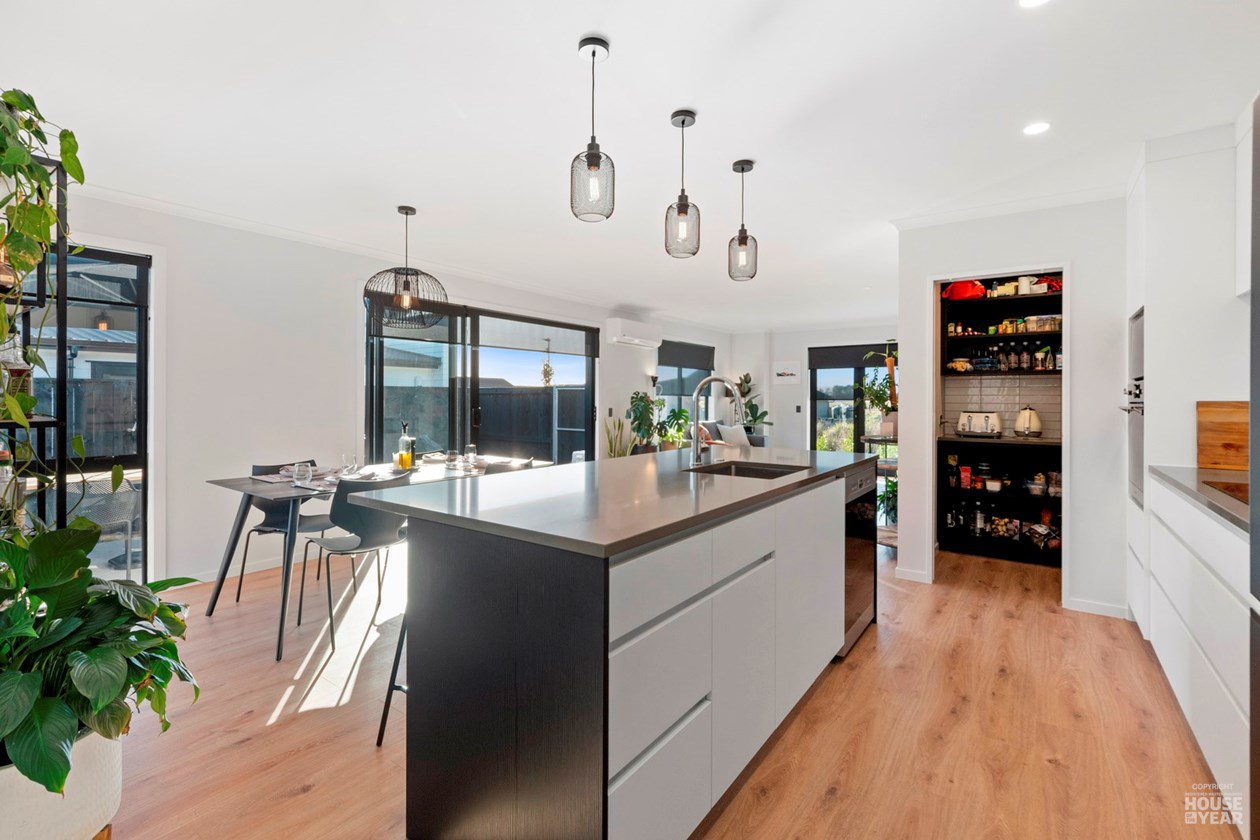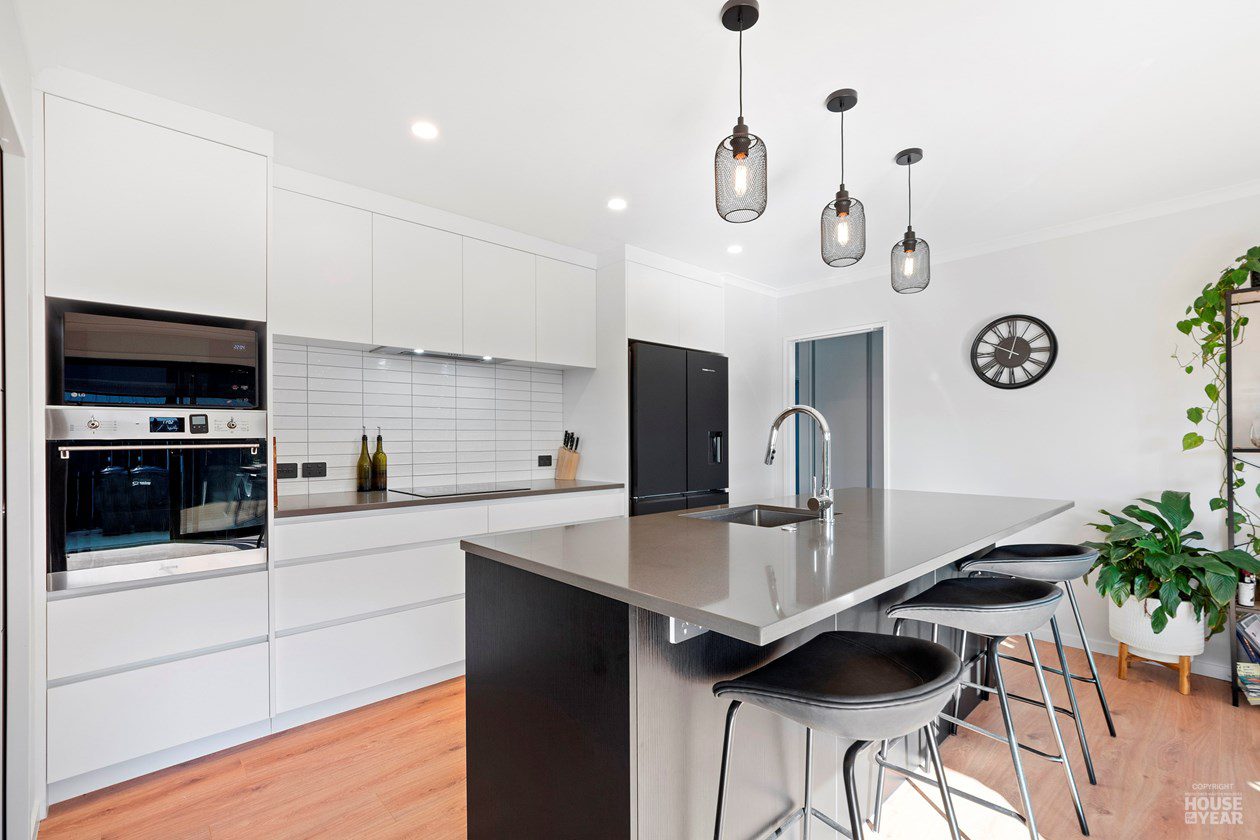 French Electrical designed the lighting plans for this home in Paerata Rise, which was considered 'standard' – power, lighting, TVs, appliances, heat pumps, etc. The LED lighting was from NSG Lighting, and the homeowner chose the pendants from Lighting Direct. The garage was installed with an E-car Charger to future-proof the home.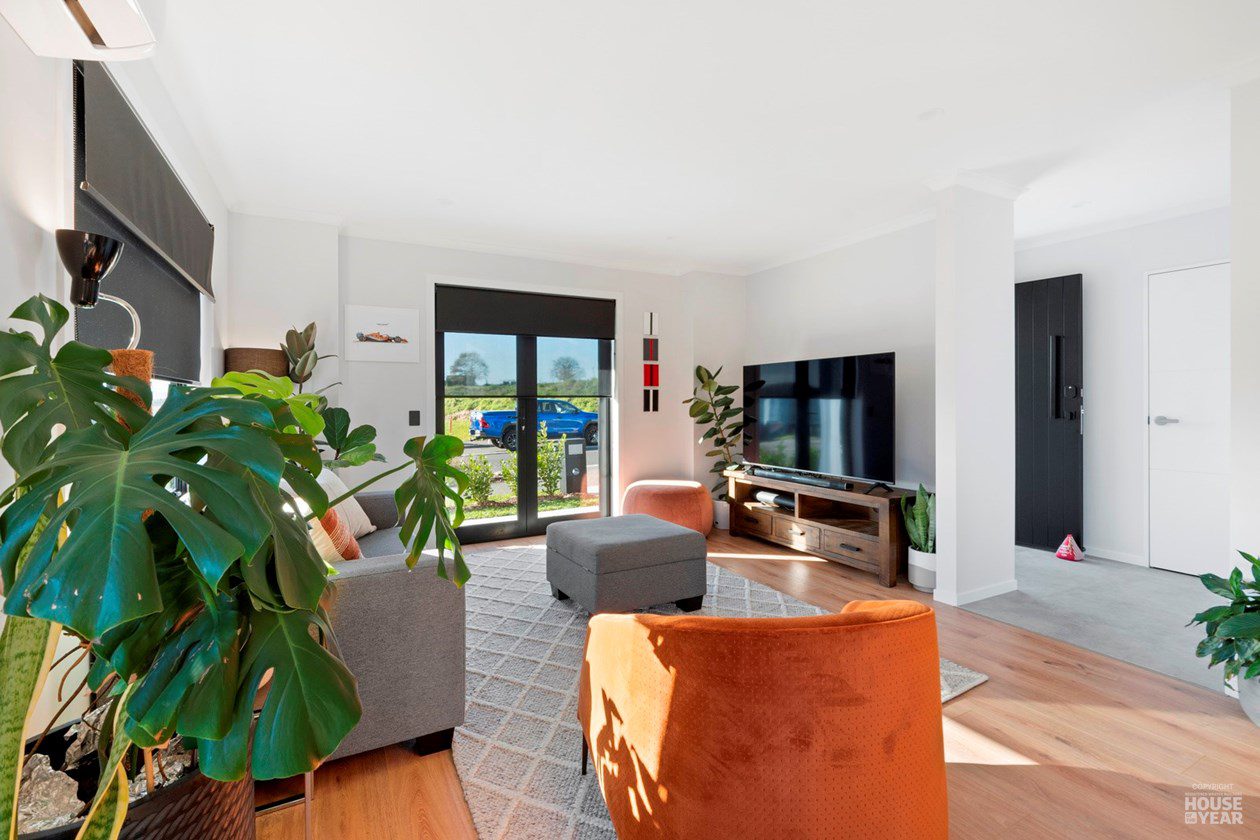 Frame Homes has been collaborating with French Electrical for quite a long time now, about fifteen years. Mark Frame said, "We like that they're professional and always turn up when they say they will. They're very knowledgeable, do an excellent job and have great workmanship."
Congratulations, Mark and the Frame Homes team!
You can view more photos of this gorgeous home on the Registered Master Builders House of the Year website here.
Seeing the light
Award Won: Regional Silver
Category: Builder's Own Home
Builder: Taylor Construction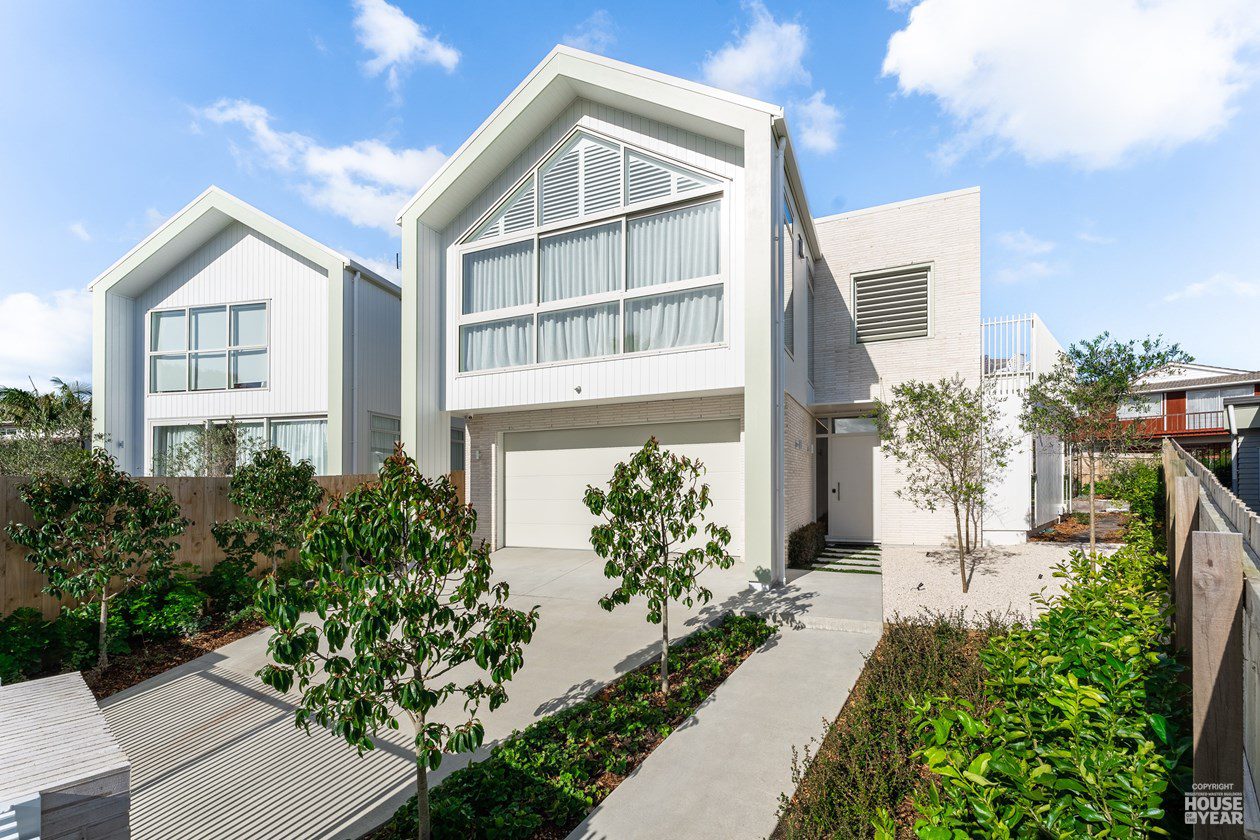 This two-story, three-bedroom, two-bathroom house is all about soaking up the sun – above the double garage, there's a big gabled window that catches all the sunlight from the northeast. Up the stairs, there's a spacious open-plan area flooded with natural light.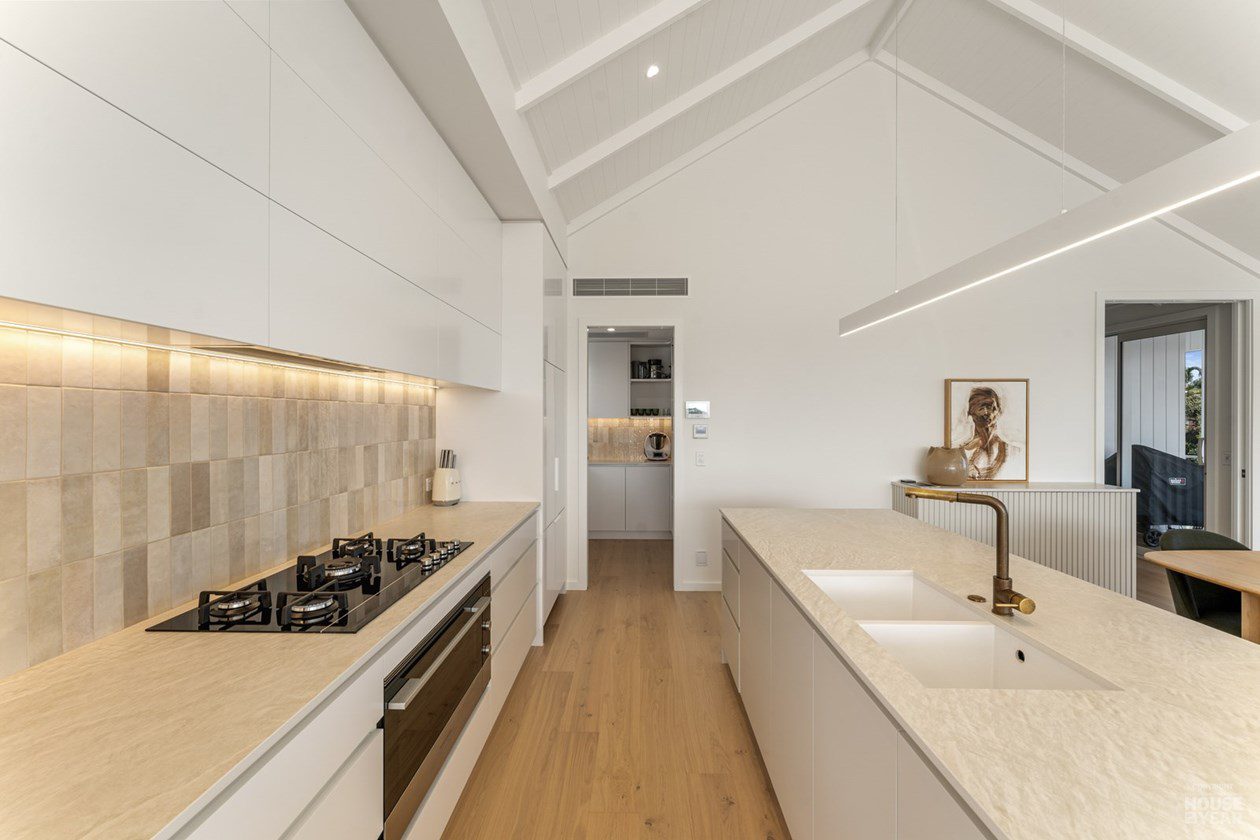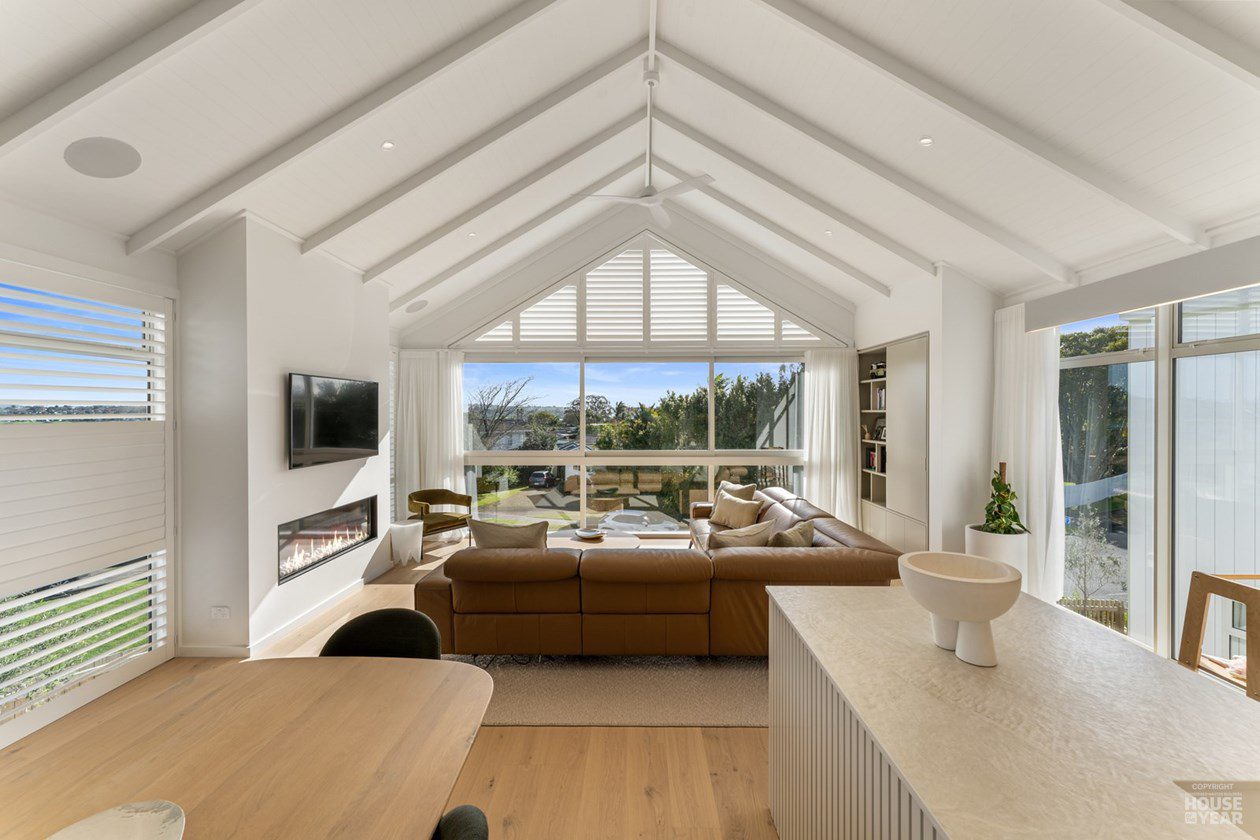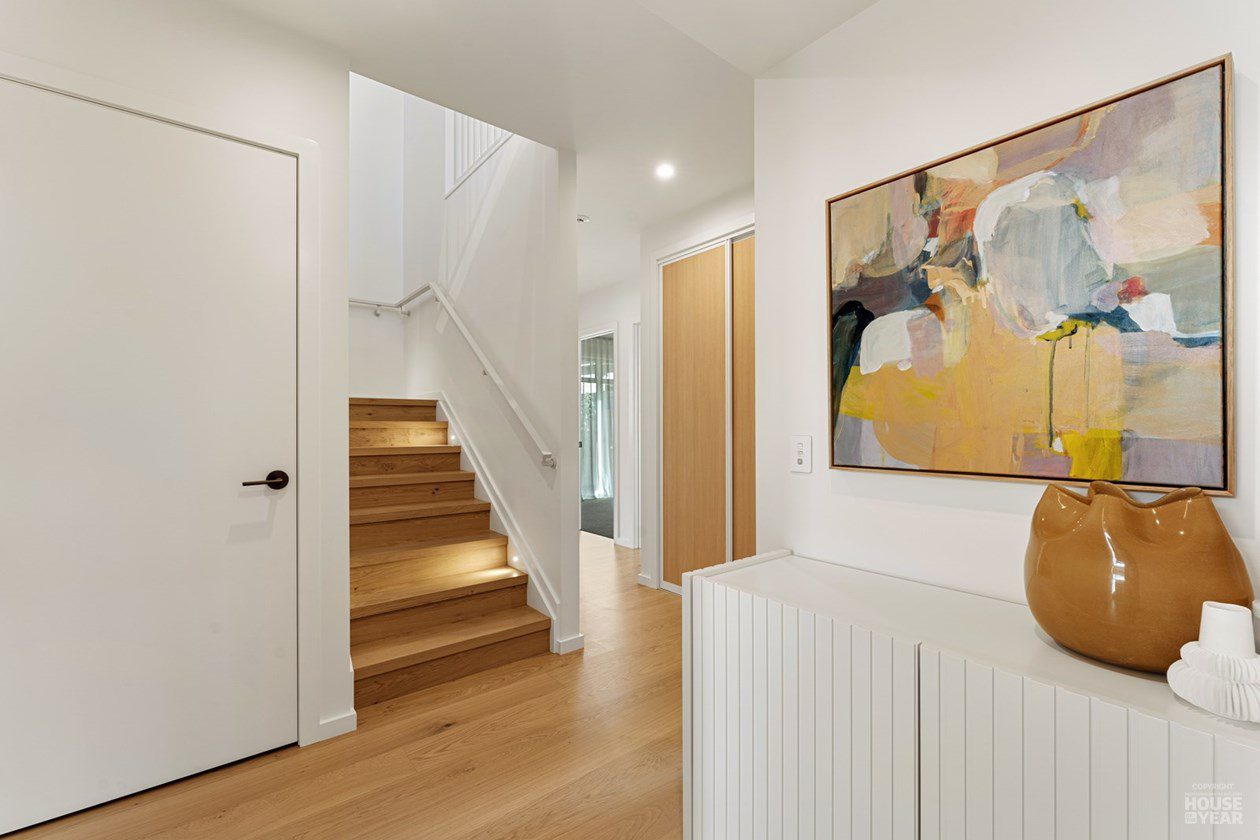 The living area is strategically placed to give you the best views of Rangitoto Island and Auckland's CBD. There's a gas fireplace with a TV nook above it. The kitchen is white and sleek, with a five-hob gas cooktop and a spacious scullery.
The main bedroom has a handy chute for sending your laundry downstairs, and a tiled ensuite. It features a double vanity, a freestanding bathtub, and a shower. Downstairs are two more bedrooms, each with a bathroom. There is also a second living area with its own bathroom – ideal for guests or teenagers.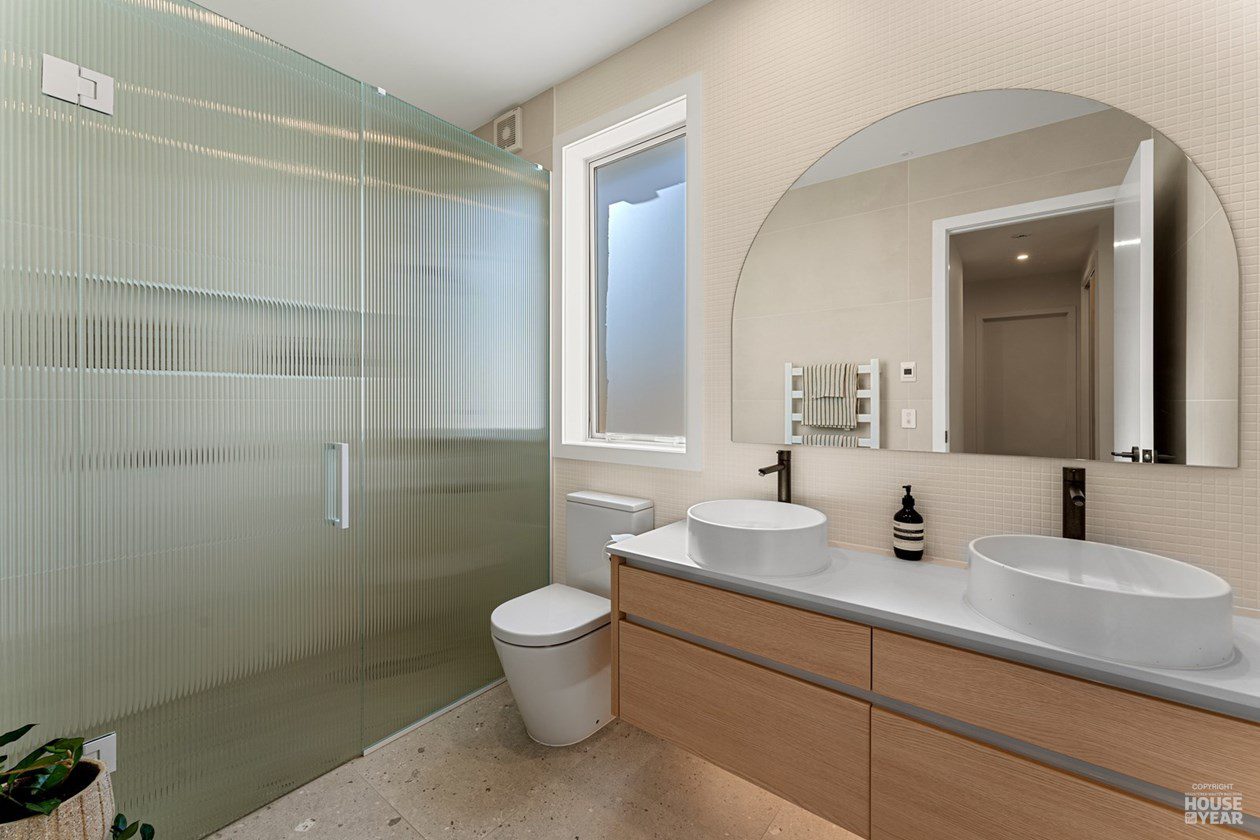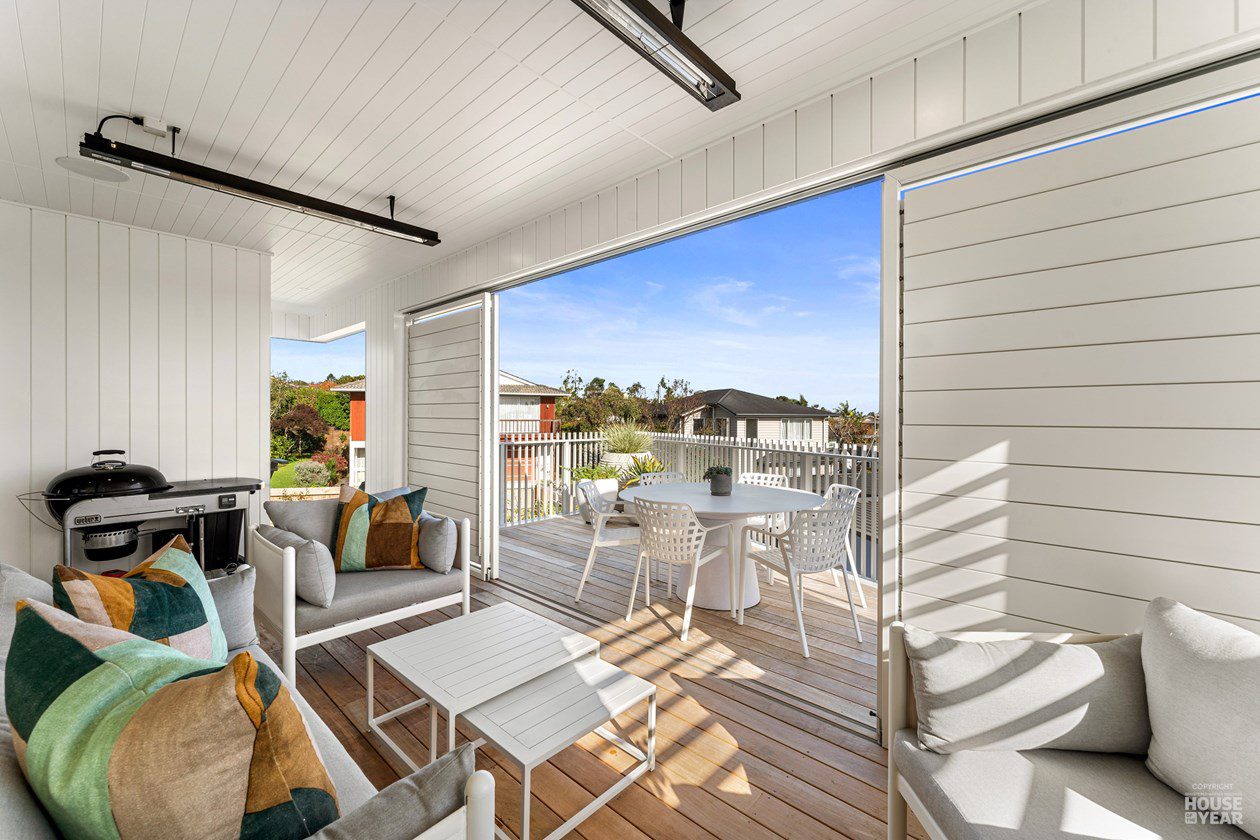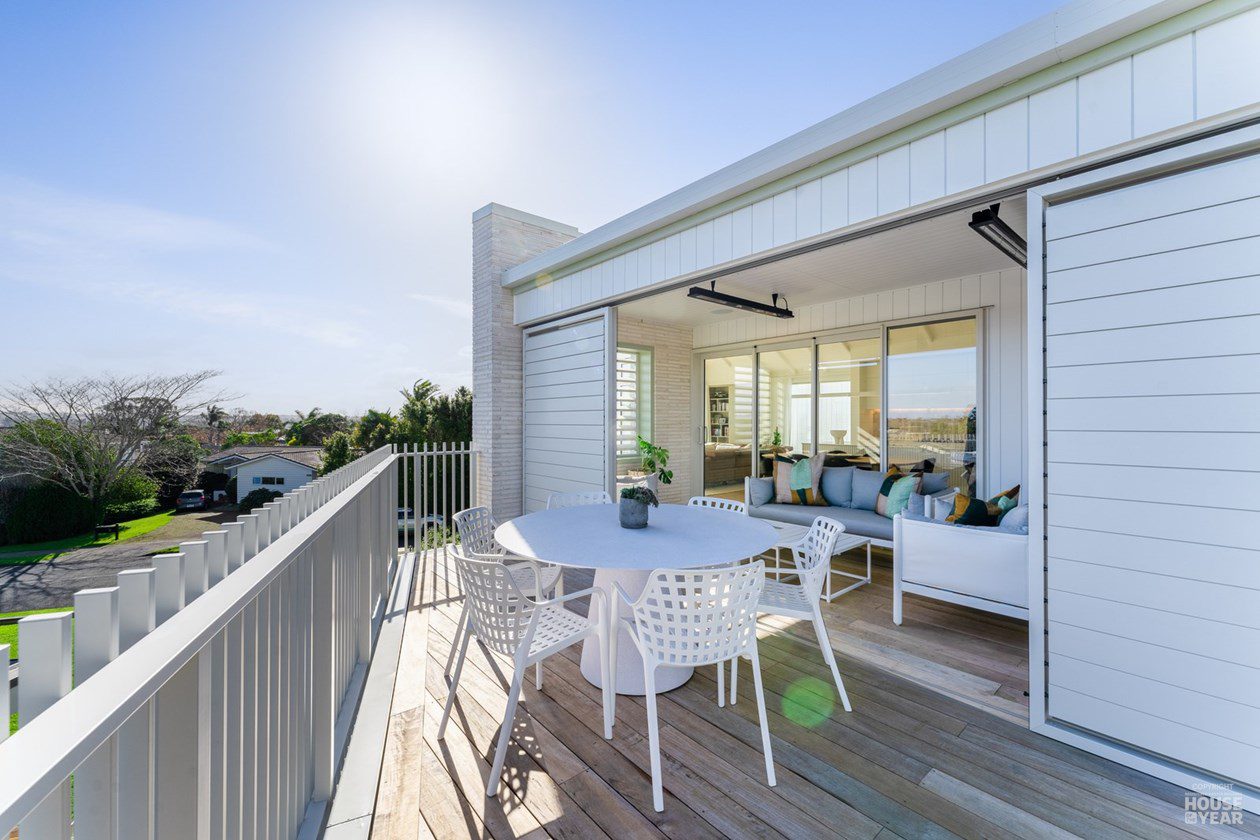 French Electrical designed the lighting plans for this property in Sunnyhills, which was very high spec. It included strip, automated, and feature lighting – see the photo of the scullery and splashback. We also lit under the vanities in the bathroom, which is ideal for night lighting. We installed outdoor heaters from Infratech, the stair tread lights are from Halcyon, and the kitchen pendant is from Lighting Direct.
As you can see from the category, this house is owned by a builder – Damien Taylor from Taylor Construction Group, who is ready to move on to his next home and try for a Gold Award! Not that he's not happy with his home; he loves how they've made the most of the light and views.
Congratulations again Damien – we love your work!
You can view more photos of this gorgeous home on the Registered Master Builders House of the Year website here.
How do you get an award?
To enter the House of the Year, you must be a Registered Master Builder, and it is the industry's most prestigious competition. There are three renovation and seven new home categories, a Show Home, a Builder's Own Home category, and a multi-unit category for apartments, duplexes, and terrace housing.
The awards in each category are determined by how many points the house achieves; bronze means the builder achieved 75% of the points available, 82.5% of the points equal a silver, and to get a gold, you must have 90%.
Then, there is another level of achievement – a Top 100 Finalist. These are given to the three highest Gold Award scores in each category, with the balance of the Top 100 comprising the next highest Gold Award winning properties, irrespective of their category.
Get inspired
Working with great clients and helping them achieve recognition for their expertise is truly rewarding. We'd love to hear from you if you want to elevate your development project and work with an electrician who exceeds expectations.
If you've seen something you like the look of in our work – pendants, lighting ideas or having an EV car charger installed at your home, we'd love to book a consultation with you